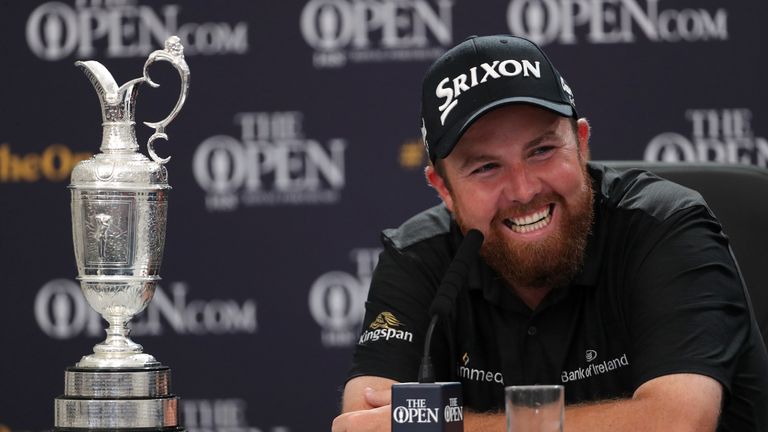 The road rose up to meet him. The wind was forever at his back. The sun shone warm upon his face. The rains fell softly upon his fields, and, until 2020 at Royal St. George's, Shane Lowry will hold the coveted Claret Jug in the palm of his hand.
The 148th Open Championship at Royal Portrush was a genuine Irish blessing to us golf fans, on a course equally as breathtaking as it was challenging. Although the storybook ending of a Northern Irishman winning this Open did not come to fruition (try making the cut next time, Rory), the golf world still saw an Irish countryman crowned as the Champion Golfer of the Year. As someone who was crowned Mr. Shamrock 2014 at his local Gaelic American Club, many friends have asked me how close I believe Shane Lowry's smile has brought Northern Ireland and the Republic of Ireland to finally uniting as one country. In terms of uniting the North and the Republic, on a scale of "26+6=1" to "A Nation Once Again", it seems as though the top lad's leprechaun grin has gotten us somewhere around "One Island, One Ireland" territory. With that said, let's take a look at 5 things I think I think as golf's 2019 major championship season officially comes to a close.
1) The US Open and Open Championship winners finished atop a major for the first time – and they were unflappable.
Neither Gary Woodland nor Shane Lowry left a trace of doubt en route to their first major victories at Pebble Beach and Royal Portrush, respectively. Kudos to both of these men for proving their mettle at some of the most demanding, high-profile golf venues on God's Green Earth. Each performance tugged at the heartstrings, and Shane Lowry's perfectly perfect "smile and wave" moment left every viewer (except the ones that bet the house on Rory McIlroy) grinning ear-to-ear alongside him. It was a moment, in the Open Championship's return to the Island of Ireland, equally as legendary as Finn McCool building Giant's Causeway.
2) JB Holmes pace of play is a legitimate issue, and Brooks Koepka was right to ridicule him.
JB Holmes may have been better served to stay home in Kentucky at the Barbasol Championship this past week rather than flying across the pond for tea and crumpets with Her Majesty the Qu- sorry, rather than playing golf in Northern Ireland. After an admittedly impressive first three days of the tournament, Holmes entered Sunday's round in the top 5 with a legitimate chance to make a run at the Claret Jug. After 18 separate strolls averaging 400 yards apiece, all while attempting an activity vaguely resembling golf, Holmes posted an 87.
Quick aside to play everyone's favorite Internet game that they've never seen before – Dan's Faulty Points of Reference! Today's point of reference: the New York Football Giants' newest addition to the wide receiving corps, Golden Tate, played Royal Portrush approximately one month ago…and shot an 84.
Holmes' T-67 finish reminded us all how hard it is to win the lottery, and how overwhelmingly average Holmes is relative to the rest of the PGA Tour. On top of that, he may not have finished the Championship by now (it is Tuesday, and I don't think I'm exaggerating) had he not being playing alongside Brooks Koepka. JB Holmes plays golf at the same pace Sidd the Sloth crosses the land bridge in "Ice Age". Brooks was right to publicly berate his slow play, and I am happy that he did it in such an entertaining way.
3) Brooks Koepka is on the brink of becoming a superstar that fans dislike.
Sure, this may be an exaggeration, but consider a world in which Brooks Koepka does not need to constantly claim that he does not practice and that he does not like golf very much. Brooks, if you're reading this (and let's be honest, of course you're reading this), trust me – people will love you no matter what. You can drop the act.
As is the case with most 20-something year old golf fans, I was extremely entertained by Brooks' initial interviews claiming things like "when you see me on TV, that's when I'm playing golf" and "if I could do it over again, I'd play baseball (over golf) – 100 percent, no doubt". Brooks is a 'bro', and is someone I would be absurdly lucky to grab a beer with. However, it has become abundantly clear to me that this is a guy who, despite his claims, certainly practices and enjoys golf. Honestly, how is it possible to believe that he does not practice golf when his last 7 major starts include 3 (THREE) victories, 2 (TWO) runner-up finishes, 1 (ONE) 4th place finish, and a (not so good, but even God took the 7th one off) 39th place finish at Carnoustie. Further, how can one take seriously that the guy does not like golf, when just a few years ago he was playing on the European Challenge Tour after failing to qualify for his PGA Tour card during the second stage of Q-School? Love for the game and unwavering self-assuredness is what kept Brooks on the golf course after failing to qualify for both the PGA and European Tours in 2012, whether he would like to deny that or not.
Bottom line, Koepka is one of the most well-liked, handsome, and charismatic athletes in history, and would be celebrated whether or not he admitted to a) practicing his sport and/or b) enjoying his profession. I understand that this makes me sound about as old and crotchety as a Jack Nicklaus fart, but I stand by the notion that he can work hard at and enjoy golf, all while being universally loved and touted as one of, if not the, coolest athletes alive.
4) Tony Finau will win a major championship before Rickie Fowler.
It feels as though Rickie Fowler has been pegged as "the best guy that hasn't won a major yet" since before I knew how to read. Granted, I learned how to read in 2012, but still – it's been a while. So long, in fact, that Rickie is approaching the front door of what I will call "Lee Westwood and Luke Donald's House of 'He'll Win the Next One'". Although Rickie is still consistently contending in majors, I am starting to subscribe to the theory that he will never win a major (and if he does, it'll be the PGA Championship). Tony Finau, on the other hand, is someone that will win a major championship before I get the cojones to quit my day job.
From "Big Break" (golf reality television) star to PGA Tour star, Finau has finished inside the top 10 in 5 of the last 8 majors. Even more impressive than his 3rd place finish at this Open Championship was his 5th place finish at the 2018 US Open at Shinnecock Hills, in which he challenged Brooks Koepka's US Open repeat victory all the way until the 72nd hole. Finau has proven that he does not shy away from big moments – and it seems that his major championship 'big break' is moving as quick as his backswing.
5) Congratulations to the winner of the 148th Open Championship at Royal Portrush, Rory McIlroy.
I would once again like to offer my most sincere congratulations to the Champion Golfer of the Year, Rory McIlr – wait, oh, I'm sorry? Rory didn't win this week? Haven't we been talking for 3 years about how this was a guaranteed major for Rors? AND HE DIDN'T EVEN MAKE THE CUT?!?
It pains me to write this, because (I wish) Rory McIlroy is a dear, dear friend, but I must ask – why have the public and the media alike been giving Rory credit for dealing with his Portrush faceplant "gracefully"? The only thing McIlroy should be receiving credit for is managing to not hospitalize a member of the gallery with an errant shot. This guy played like an on-fire garbage can at a place where he has owned the course record for, quite literally, half of his life. Sure, it's not "technically" his home course, but this Open Championship wasn't pegged as McDowell's or Clarke's to win. For the last several years, this has been flagged as Rory's Championship. I have been telling friends for years that Rory was going to win the 148th Open Championship at Royal Portrush, and now I look like a big, stupid idiot (pardon my French). Truly, though, Rory hit shots on Thursday that I didn't even know he had in his arsenal. The skulled 8-iron that went about 60 yards over the back and right of the green and drilled the grandstand on 18 on Thursday was a personal favorite of mine. That shot – which came from the middle of the fairway, by the way – serves as a wonderful microcosm of what Rory's Royal Portrush experience turned out to be. Until next time, Rors – I'll see you back in Northern Ireland once I can figure out how the Rota works.